EZEE HOTEL MANAGEMENT SYSTEMS
eZee Front desk is the modern solution which has whole range of integrated modules to cover every aspect of property management. The software is widely accepted worldwide due to its state-of-art technology and appealing graphical user interface.

eZee HMS is designed to accommodate the needs of various types of properties viz. the hotels, motels, resorts, clubs, B & B's, small hotel franchises, clubs, condos, hostel and apartments. The software is installed in more than 60 countries round the globe.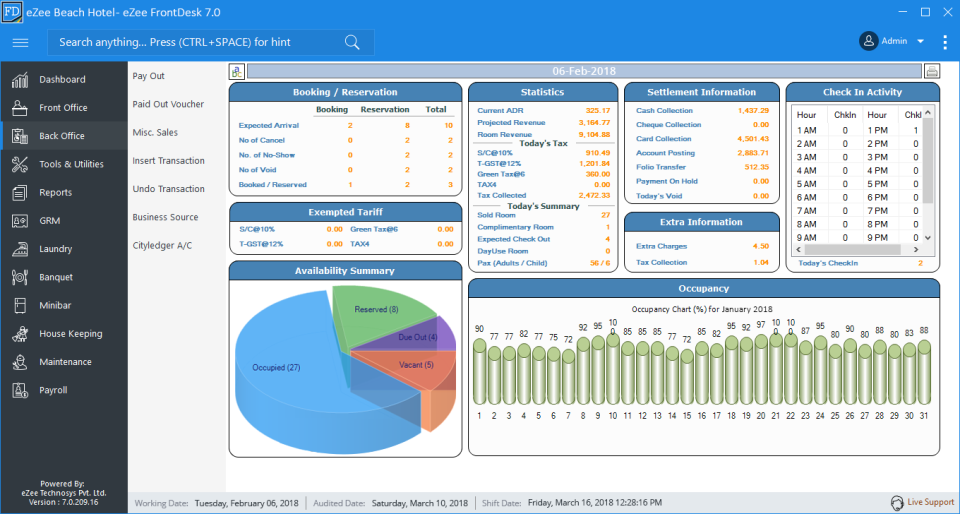 2. 1 EZEE MODULES
Check in, check out, reservation
Group management
Travel Agent and Corporate Accounts
Night Audit
House Keeping and Maintenance
Mini-Bar
Guest Relationship Management
Cashiering
Web based Reporting
Banquet Management
Payroll and HR
2.2 EZEE FEATURES
The check-in wizard guides you through a simple process of checking in/out your guests.
The report viewer allows for viewing reports on screen as well as printing and exporting to PDF & other office packages.
Changeable views for the front desk module giving you the options of room layout view, inventory lists view, transaction summary view, stay view & reports view.
Intuitive and appealing graphical user interface.
Room positions, sizes and amenities can be captured in the software. This can be pictorially represented on Front Desk thereby giving a real-life image of the rooms.
Feature-rich and useful reports for easy decision-making by management (Please see appendix for sample reports)
Guest folio can be generated at any instant to give a report of guest ledger (payment status)
Multi-user enabled with access gradations/ user rights assignment.
The POS module (eZee POS burp) is touch screen optimized allowing for easy access to menu items for sale.
2.3 INTERFACES/ INTEGRATION OPTIONS
Accounting interface
Inventory Module
Call accounting interface
Web based reservation interface
eZee burp (F&B POS) interface
Key Card Door Lock Interface
SMS integration
Credit card Payment Gateway Interface